When it comes to product photography, many Amazon sellers will get their product in for a shoot in the early stages and then rely on those images for months and years. However, our statistics at Splitly show that testing your product images can have a profound and positive impact on your bottom line.
Here's just one example from a user who split tested their lead picture from a photo of the product label, against a zoomed out photo of the product.  Just this simple change resulted in daily average sales increasing by 66%.
As a photographer myself, I like to think that I know which product image would perform best and convert more customers. Sometimes I get it right, but most of the time I am shocked by the answer.
The point is – we shouldn't rely on our own assumptions of what will work. Millions of Amazon shoppers should be the ones to decide, and more often than not, the best performing product photography can come as a surprise. Plus, it can change over time!
Why not do some DIY photography?
I understand why you may not have touched your product images since you launched. It takes time and costs money. But you could be leaving money on the table by not improving your listing and actually testing what works best.
But here's the good news. You could start to do some of your own photography, with minimal equipment, and use this to fuel your Amazon product listing optimization.
Obviously, getting a professional photographer to do your images is always advised. However, sometimes you may need to fill a gap at short notice, or want to save costs on deciding what to brief your photographer with by testing some images first.
What we will cover
There's loads of hacks you can employ to create your own images that are acceptable to use on an Amazon listing. Especially if you want to test a few angles, frames or combinations, this could save you some money AND help you to discover what will actually make you more money. Win-win!
We will take a look at:
How to set up a standard product shot on a white background
How to take some photos with a smartphone
Editing photos using smartphone apps
More advanced tips, including some (inexpensive) kit you can buy to make your set-up a little more robust
Who am I to talk to you about this? Well, I am part of the Splitly team (marketing), and I have been a freelance photographer for 7 years. I enjoy taking photos of people and places, but I have also project managed large scale ecommerce product photography in the past.
OK let's get to it!
Setting up a product photo with a white background
Make sure you study the requirements for images on Amazon before you start, it's useful to have a grasp of this.
For a main image on Amazon, a white background is required. Coincidentally, this is also the most beneficial image to split test, so let's start here.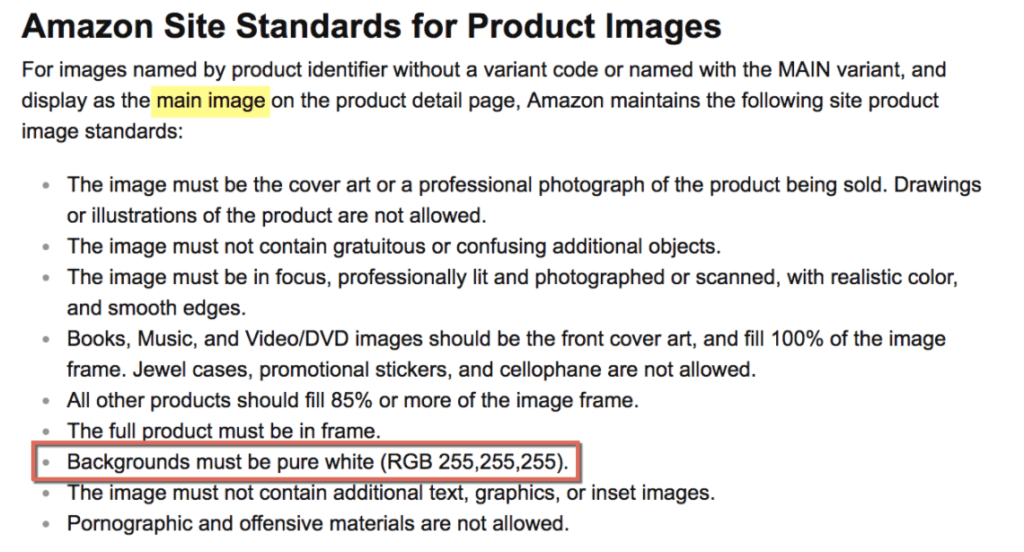 You may have seen the professionals using expensive looking white backdrops and lighting. But don't worry, we've got this. Grab yourself a large white sheet of any description (clean, no marks). Even if you travel a lot, this is unlikely to be difficult to find. For this example, I am using bedsheets which I ironed to remove creases that might be hard to edit out later.
Find a light, but not too bright, spot
In photography, light is everything. Without it, you have no photograph. The best option is to find a flat surface near a window with natural light. You could also take your shoot outside, but beware that on bright days, it can get a little difficult to work with.
Here's an example of a good spot. It's actually a little darker than I'd like here, but it's ok because I have another trick up my sleeve: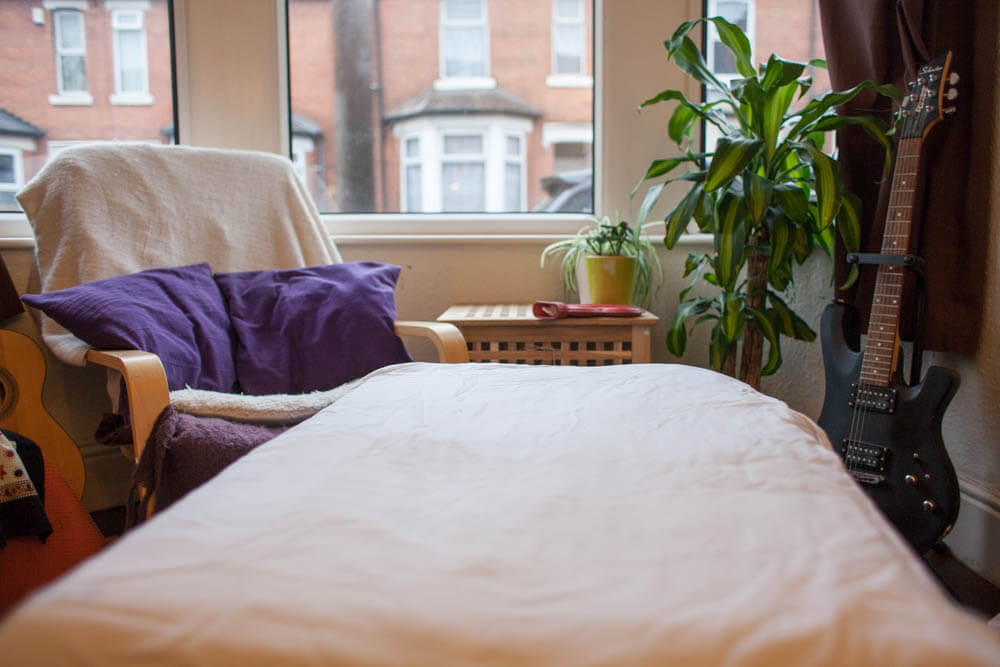 Find anything that you can create some height with… 
In order to create a backdrop, I need to add some depth underneath my sheet. I couldn't find a box, so I used a stack of books. Anything you have to hand would work.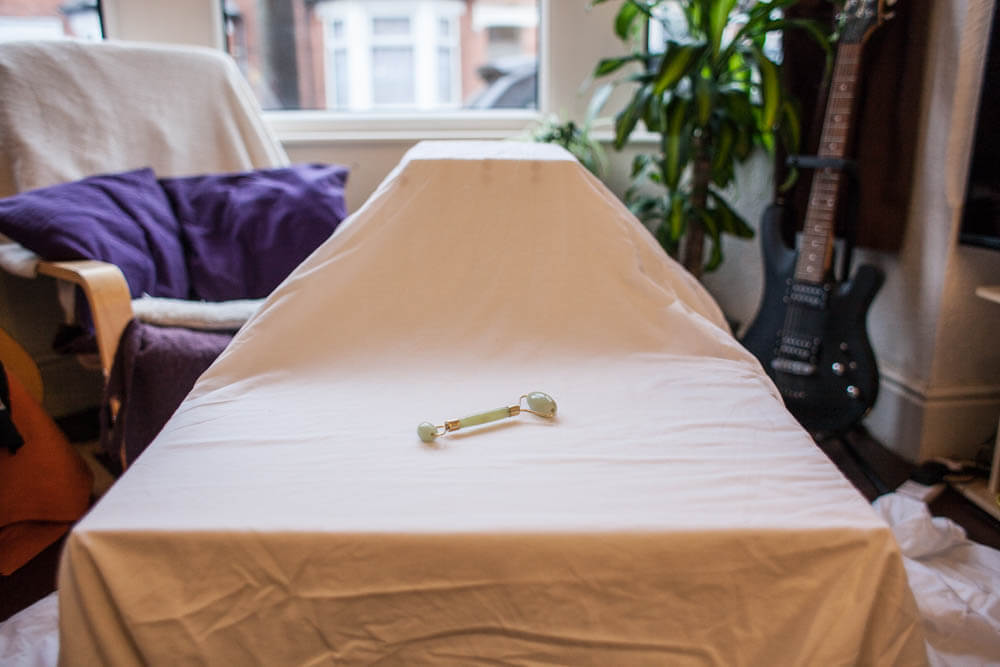 As you can see this method would suit small to medium sized products. If you do have oversized products then you're going to need a bigger space, surface and backdrop.
you have an oversized product, (i.e. bigger than the shoebox test) then you may struggle to get high quality images with the full product in view. But it could still definitely work to take some close-up shots, which would be a useful addition to your 'other' product images.
Add more light
As I mentioned, light is imperative. It's quite dark in my setup so I am going to add some artificial light too. Guess what I am using? A lamp!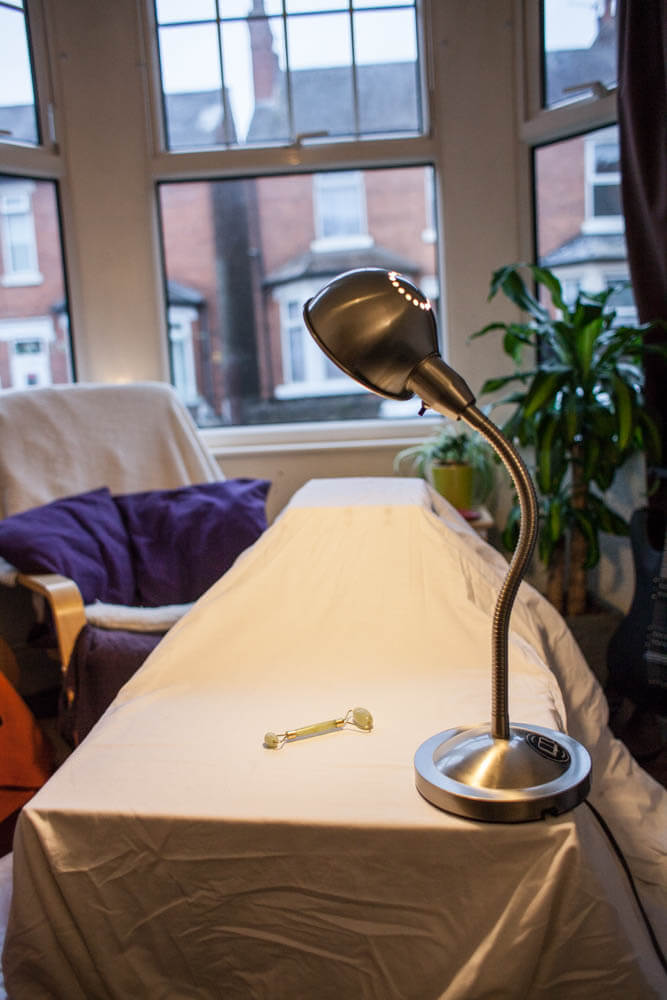 LED light is usually best, as it creates a bright, white light. My lamp is actually tungsten (an warmer yellow light source). Nonetheless, I am going to make it work.
I positioned my light to cover the product, but not too close so that it was too overpowering. You can play around with the light positioning once you start taking photos.
Grab a decent camera
In this example, I used an iPhone 6s. If anything, a good, up-to-date smartphone will generally provide the best results. The cameras on smartphones are excellent these days. However, if you do have a good digital camera, by all means try and get some results with this too. Though this does mean you will have to consider your editing options, and you may have to be familiar with something like Photoshop.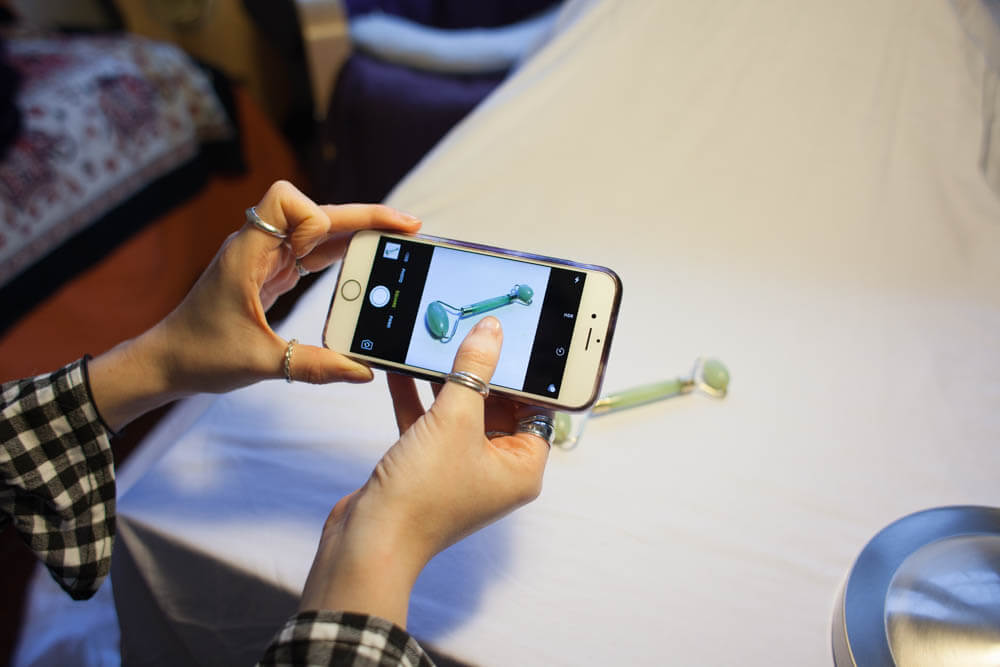 Most smartphones will have an option to adjust the exposure (brightness) as you take a photo. Here's how it looks on an iPhone: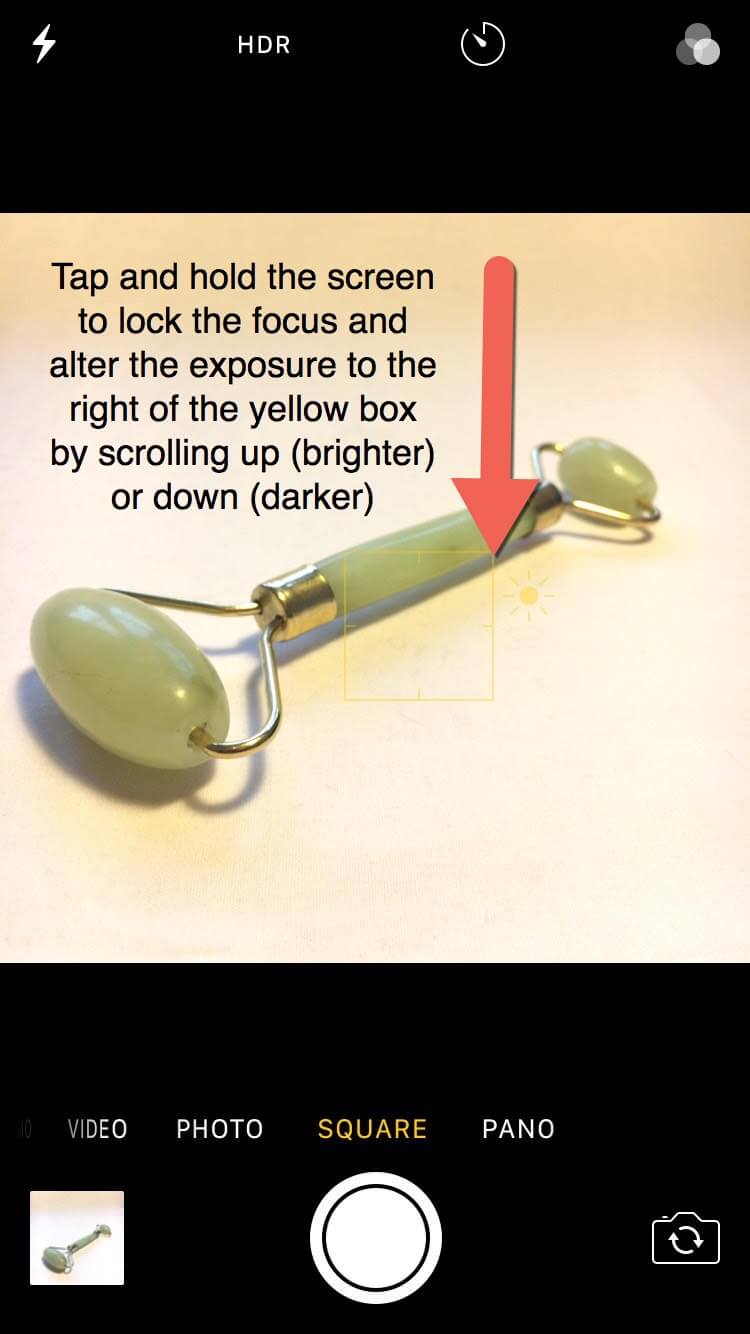 Right now, the exposure doesn't matter too much. Just make sure the image isn't too dark, but equally it isn't too bright so that you lose detail in the image later.
What you can and should be doing is trying out some different angles, frames and lines within the frame. Don't be shy, just get involved and see how you get on. You can always delete your practice shots and start over.
Here's some tips on taking interestingly framed product photos:  
Play around with a few angles to show the product in the most dynamic way possible. If you take a few different angles, you can always edit and save them for later and test which ones perform best. Have the product horizontal, vertical, diagonal. Try shooting lower down, from the top (birds-eye view) and so on.
Although you can crop the photo later, you want to make sure it's fully within the frame and no edges or corners are cut off. The more white space you have around the product, the more room you have to edit and crop.
Lines are super important in photography. Try not to include any angles that are jolting to the viewer. You want the image to be visually appealing, not confusing.
Remember! Amazon images are square, and your final image needs to fill 85% of that square. It's often easier to shoot in square mode from the off so you can visualize.
Here's a sample of my initial results:

Editing product photography
Technology has made this part so easy for us. Gone are the days when you had to spend hours in a darkroom processing the perfect image.
Easy to use smartphone apps
Once I have a few photos taken, I can get started with my editing. You can do this right within the Photos app on an iPhone, which I have decided to use for ease. (See some other app suggestions at the bottom for all devices).
I started with the following image: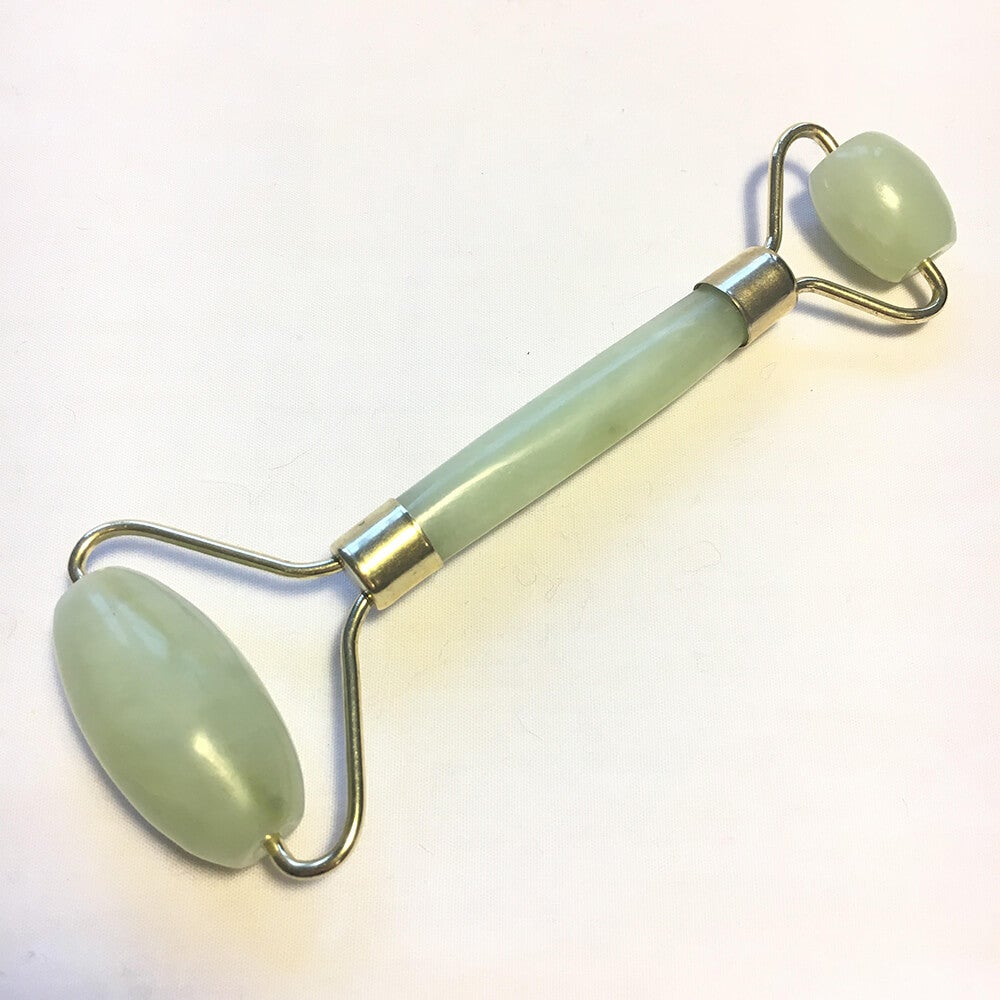 It looks okay but there's some dark patches, the background is not very white and the product doesn't really stand out. Here's what I did to edit the photo:
Made the exposure higher to make the background much whiter
Reduced the shadows to get rid of some yellow areas on the background
Tweaked the color slightly to make the product look vibrant and beautiful
Cropped the image slightly
Here's my final result: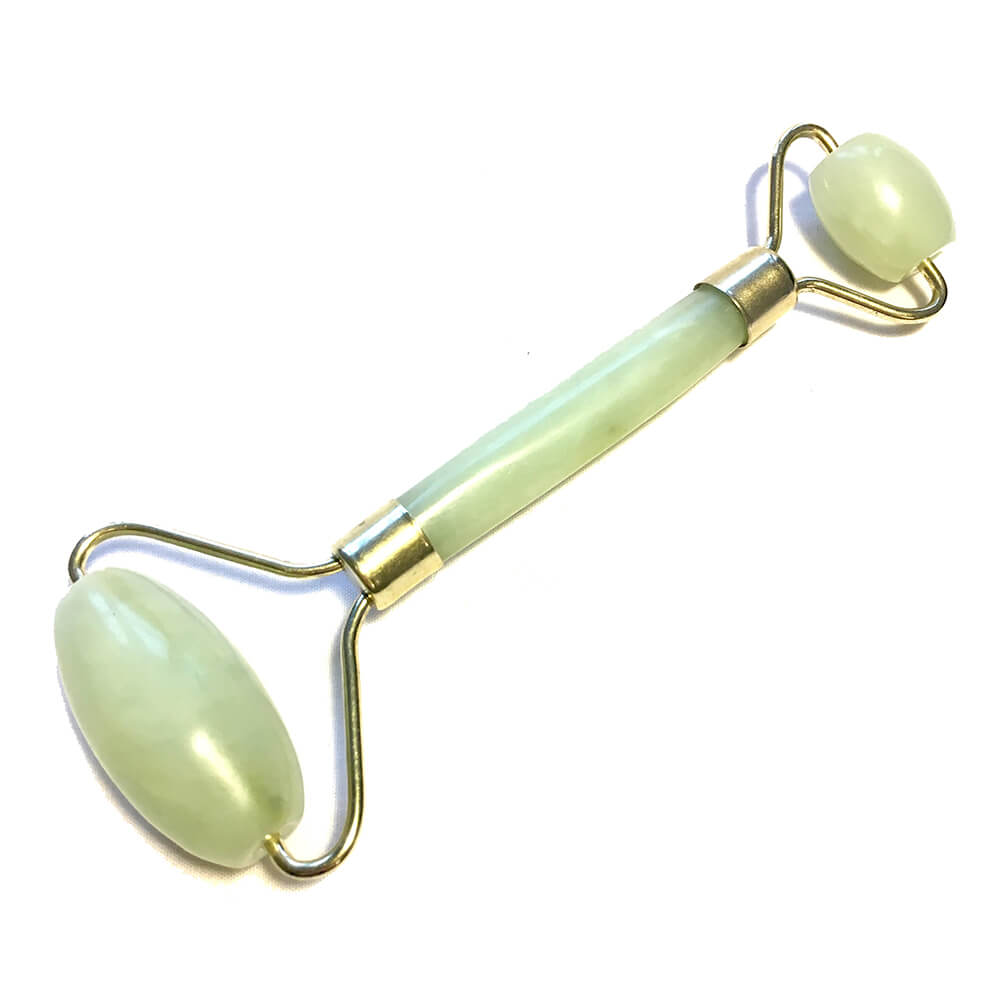 Not bad for a neat image to use in a split test! Just so you know, I used the native iPhone editing app which is called 'photos'. It's very easy to use, you can just select things like 'exposure', 'contrast', 'shadows' and so on, and adjust your image using a simple slider.
Here's an example of how I edited the exposure: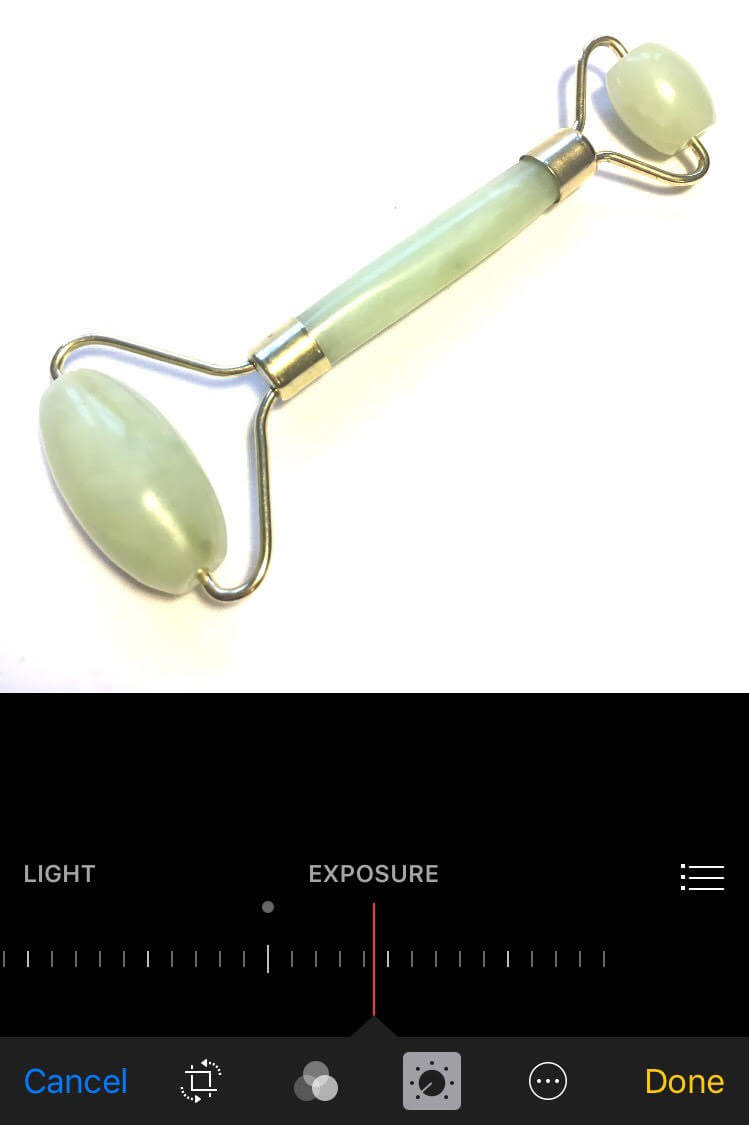 Super simple, and it's responsive so you can see instantaneous results.
Don't be afraid to play around with an image. If you ruin it, you can just start over. I can now go back to all of my other images and see if any of those come out well after a few tweaks.
Here's a list of apps that I would recommend that are available on most smartphones:

The Amazon Seller App, Photo Studio (see more in this video example with Lenny)
VSCO
PS Express (A light version of Photoshop on your phone)
Snapseed
Photo editing jargon explained
These are the things that are pretty standard across these apps, and the best tools at your disposal to make your image a good one:
Exposure – This will literally make the image brighter or darker, usually without losing too much integrity in the image. Just don't push it too far, because you will start to see pixelated areas and unsightly grainy patches.
Brightness – This works similar to exposure but tends to remove more detail from the image, so apply with caution.
Temperature or Saturation – These tools are really useful if your image is a little orange or yellow, you can try to change the temperature (also called color sometimes) using this setting. Remember you want your background to be white, and the product to be clear and showing a true depiction of color.
Clarity/Sharpen – Hopefully your image will be in focus, but you could add a tiny bit of sharpening to make it crisp. Again, less is more!
Highlights / Shadows – Try playing around with these settings to see if you can eliminate any blemishes in the white background space, whilst maintaining detail and shadow on the product. Top tip 🙂
Expanding your product photography kit
Maybe you want to start doing this more often to fuel your split tests. Or perhaps you are introducing new products and you need some fast results.
You could quite easily set up a small but perfectly formed mini-studio for your photography production.
Here's some cheap tools that I would advise you consider purchasing:
Lightboxes – you can get small pop-up lightboxes which are fantastic for small products. These give you a super accessible backdrop to work with, and as they are boxes, you can control the light a little more.
Reflectors – if you are trying to utilize natural light, a reflector always comes in handy, but you might need a spare pair of hands to hold it in place to bounce some natural light towards your product
External lighting – you can get some neat portable LED lamps that are battery powered, and can easily be propped up with a small tripod. One of this would be handy if you live in a darker country with less available
Small tripods / Gorilla pods – whether you have an unsteady hand and want to stabilize your phone or camera, or if you want to purchase extra light sources, a few of these will certainly come in handy.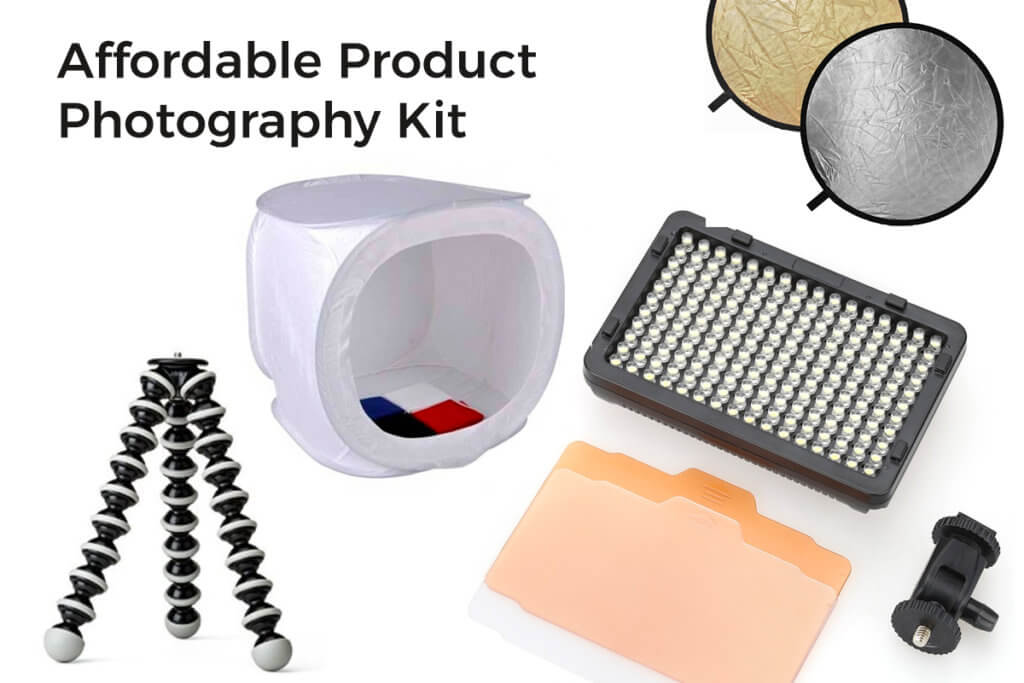 If you want to edit photos on a computer, rather than in an app, but don't have Photoshop, then you could try out something like Pixlr or GIMP (for free!). I won't go through how to use the more sophisticated tools in this article, but there are so many online tutorials and explainer videos around if you need some help!
What about lifestyle images?
Other than testing your main image, you may also want to add some more exciting imagery to your product listing. Again, my best advice would be to hire a professional photographer to do this for you. But you could also try taking some photographs yourself if you are feeling adventurous. Again, this may help you to test out what works before investing.
Here's some top tips for taking lifestyle photographs of a product:
Try and use natural light where possible, especially if showing your product in use. This means going outside or being in a naturally lit room.
Close-ups of a product in use can be an easy-win, compared to full-size shots that involve a lot of background
Do you have a designer? You could work some of your images into an infographic style
Tips on hiring photographers
And finally, if you do hire a professional to take some photographs for you, here's a few considerations to make sure you get the most out of your investment:
Look for a photographer that specializes in product photography, for both studio lit on a white background and lifestyle product photography. You may find one that is excellent at both, or you may choose two different people.
Ensure you have a full list of everything you want, so that you are not disappointed. This includes a list of each image that you would like for each product, carefully described in as much detail as possible. Even a quick sketch can be useful.
Remember to detail everything; specific angles, close-ups, packaging, bundles or group shots, orientation, square cropping, etc.
If you are hiring someone for lifestyle photographer, consider your product and brand and how you want this to look and give as much information as possible. What type of scenes and models are required?
A few useful contacts for your Amazon photography needs: 
Pixc is a photography editing platform that can edit your product photos exactly to match Amazon's specifications and you can add various additional aspects like drop shadow, cast and reflection to your images. You can share photos easily using Dropbox and get a turnaround in just 24 hours.
Dropicts is an additional photography editing tool that does the white background correction, and can create customization to the images as needed. The editing turn around time is guaranteed within 24 hours and quite cost effective at less than a $1.50 per image depending on your editing needs!
Productphotography.com is an amazing service if you don't want to bother with taking the images at all. You simply send your samples directly over to them, express your needs and they take care of everything from hero shots, to hand modeling they will do it! The cost is slightly higher, and turnaround usually around one week, before they send the products back to you and send your new images. This is what we use for Case Studies over at Jungle Scout!
Conclusion
So there we have it. I've covered how you can go ahead and start to do some of your own photography for your Amazon products, and use these images to improve your listing optimization over time. If you are a Splitly user you can test your main image, your other images and even the order in which you show your images. All of which can have a profound effect on your bottom line.
Remember, pictures speak a thousand words, and your product photography is the best thing your potential customers get to see the real thing before deciding to purchase. So make sure you are testing your assumptions and making the most out of your listing.
If you enjoyed this article or have any questions, let me know in the comments below. If you have had a go at your own photography, we'd love to see some results!